cabin cooking
by
sanae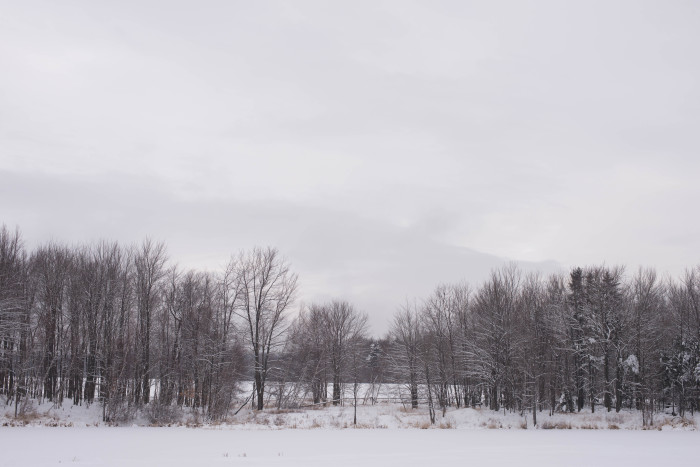 Photo by Daniel Abrams
There were eight of us for three bedrooms in a wooden cabin so intimate we could hear one another whisper before falling asleep.
We drove two and a half hours west, from New York to the Poconos. When we arrived at the residence the sky was cloaked black. At the entrance near the visitor's center a traffic board flashed red with the announcement: Saturday night karaoke cancelled due to technical difficulties. The community seemed gigantic and ghostly with rows of houses along empty roads, each house equidistant from the other and separated by strips of garden. I was reminded of an abandoned ski resort. We were surrounded by hundreds of unlit houses, but we still felt as though we were in the middle of nowhere.
We arrived at our cabin after driving a long loop along the lake, around which were organized the two hundred and sixty lots. We joked that we were returning home for Thanksgiving, and indeed I experienced an eerie déjà vu of a homecoming I never had in college.
The windows glowed orange as we climbed the steps of our cabin and pushed open the door. Jo danced around the kitchen, deep in her dinner preparations, while Ben placed logs of damp wood near a heating vent. The house smelled of roasting chicken, lemons, capers, and caramelized sweet potatoes. Dan whisked a vinaigrette for the red leaf spinach while Jo cooked Israeli couscous. She sautéed onions in olive oil and added the white pearls to toast until they were golden. She poured stock onto the couscous and I stirred while she prodded the chicken and spooned capers onto its crispy skin.
I heard others set the table as we arranged the food onto a kitchen island. The fire blazed behind us. We cut into a thick and pungent Saint-André. The meal was a wild success although the sweet potatoes were slightly charred – to Geoffroy's delight, as he prefers his vegetables blackened. The potatoes had shrunk and their flavor was dense and concentrated like candy. We finished them first.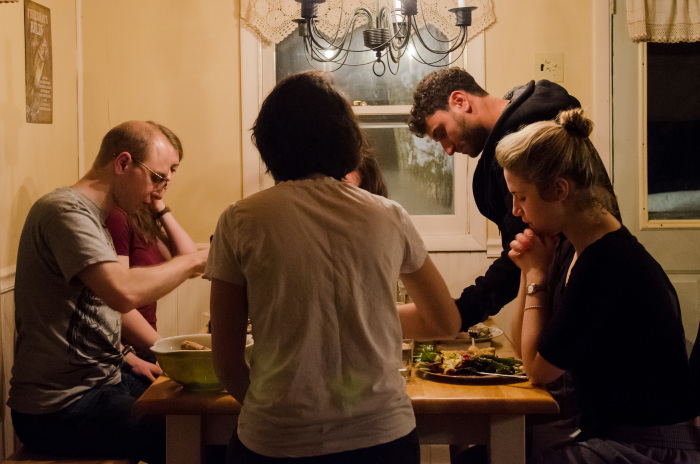 Photo by Ben Cruikshank
Later in the weekend Jo confessed to being nervous about planning meals for eight. She and Ben had bought all the groceries before driving to the cabin. They anticipated late night snacks with meringues, hazelnut chocolate and dried figs; milk, coffee and tea for breakfast; a bottle of extra virgin olive oil that was half-empty by the time we left on Sunday. But I was most impressed by the beautiful, thoughtfully composed meals – each one bringing together colorful ingredients that required little active cooking time and allowed us to chat while the food mostly roasted. Our two dinners were balanced and filling, and for those who hadn't seen the simple preparations, each dish appeared to be the product of sophisticated skill and hard labor.
Jo's cooking genius is in her ability to create dishes that can be made ahead of time or thrown together at the very last minute. When we arrived Friday evening everything but the salad was baking or simmering pleasantly. The stove was doing most of the work.
Instead of breakfast and lunch, Jo chose to cook us brunches. A majestic and rich Shakshuka: onions and sausage meat sautéed in a pan with spices. Two jars of tomato sauce to gain time. The mixture simmered until the sausage broke down and the cabin smelled of stew. We pushed aside the meat and tomatoes with a wooden spoon, filling the cavities with eggs. They poached slowly in the oven. We added chunks of Port Salut just before the whites had set. We threw a handful of chopped basil onto the steaming Shakshuka and served it with baguette for soaking the sauce.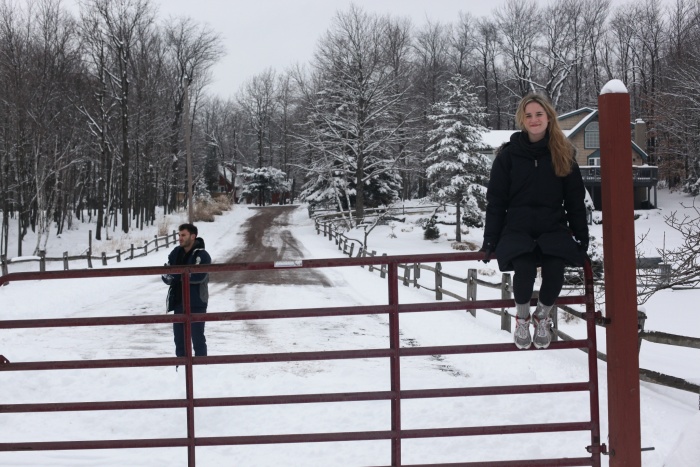 Photo by Geoffroy Bablon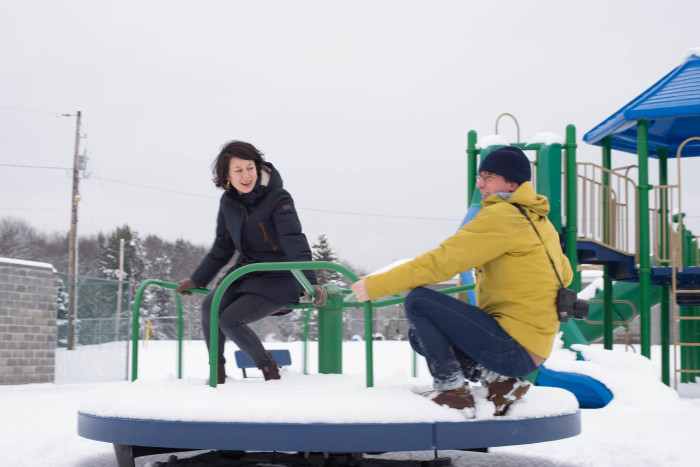 Photo by Daniel Abrams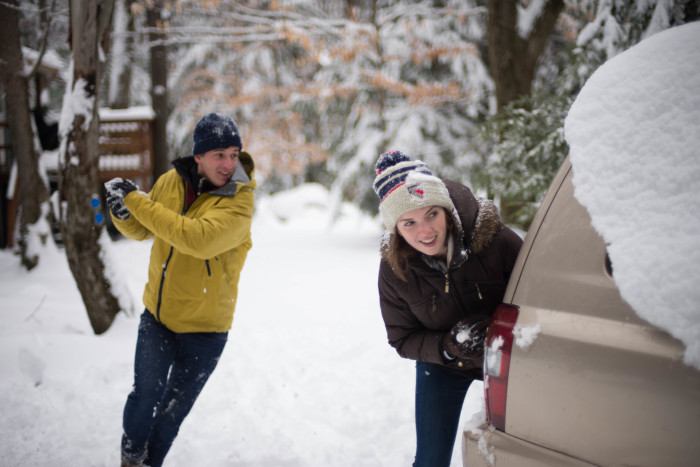 Photo by Daniel Abrams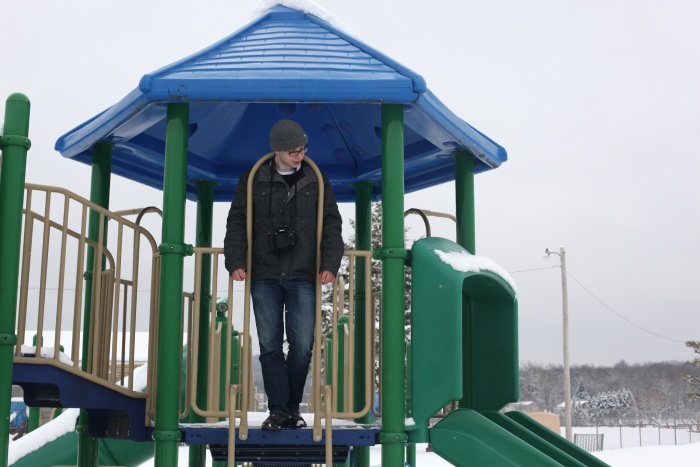 Photo by Geoffroy Bablon
It had snowed that night and the residence was covered in eight inches of powdery snow. We walked to the frozen lake and discussed our next meal for Saturday night. Lamb rubbed with garlic and lemon zest, slow roasted over a bed of cabbage and parsnips softened in stock. Spicy broccolini charred in a hot oven. Endives tossed with blood oranges, Port Salut, and toasted pistachios that we would shell one by one.
At dusk we sat around a small table with wonky chairs, each one of us seated at a different height, holding our hard plastic plates, clamoring for second helpings. We piled tender lamb onto steaming, soft-as-butter vegetables. We felt like kings, feasting until we had polished our plates clean! We ended the meal with a tasting of dark chocolate.
Sunday, as we waited for each cabin dweller to emerge, Jo and I prepared colossal scrambles with our leftovers, grating cheese, shredding basil, dicing the last of the sweet potatoes and separating lamb from root vegetables. We cut day-old bread into squares and toasted them in butter. We arranged apples and blood oranges in a bowl. The eggs were soft and just undercooked with smudges of melted cheese. Around a brimming table, we gathered for our last cabin meal to spoon eggs onto our croutons. We were all home.
Recipes from Joanna Ehrenreich. All these dishes serve eight generous portions.
Roast Chicken with Capers, Lemon, and Rogan Josh
10 chicken thighs and wings
2 lemons
2 tbsp. capers
4 cloves garlic, chopped
Rogan Josh
1/4-cup olive oil
Salt, pepper
Zest one lemon and juice it into a bowl. Add garlic and olive oil to the bowl and stir. On a large plate, rub this mixture over the chicken and sprinkle generously with Rogan Josh, salt, and pepper. Brown the chicken over medium heat on a large pan or skillet. Cut the remaining lemon into slices. Spoon capers over the chicken and nestle the sliced lemon between chicken legs and wings. Roast at 400 F for 30 minutes or until crispy and done.
Baked Sweet Potatoes
5 sweet potatoes, roughly diced, skin on
Olive oil
Salt, pepper
Toss the diced sweet potatoes in a large pan. Drizzle with plenty of olive oil and sprinkle generously with salt and pepper. Roast at 400 F until browned and sweet (the length depends on how caramelized and slightly charred you like your sweet potatoes – begin checking at the 15-20 minute mark).
Red Spinach Salad
Handful of red heirloom spinach
Handful of wintry greens
Olive oil
Balsamic reduction or glaze
Salt, pepper
Emulsify balsamic glaze and oil until you achieve desired consistency, then season to taste with salt and pepper. Toss in greens and reds just before serving, to lightly coat the leaves. We find it's best to toss with your hands.
Israeli Couscous
2 cups Israeli Couscous
4 cups good chicken stock
Olive oil
Sweet onion, chopped
Dried basil
1 tbsp. butter
Freshly grated Parmesan
Salt (optional)
Coat a pan in olive oil over medium heat. Sautee the onion until soft and add the couscous. Toast the couscous for a few minutes until golden. Add stock and basil and simmer until plump. Stir in butter and Parmesan right before serving. Taste for salt.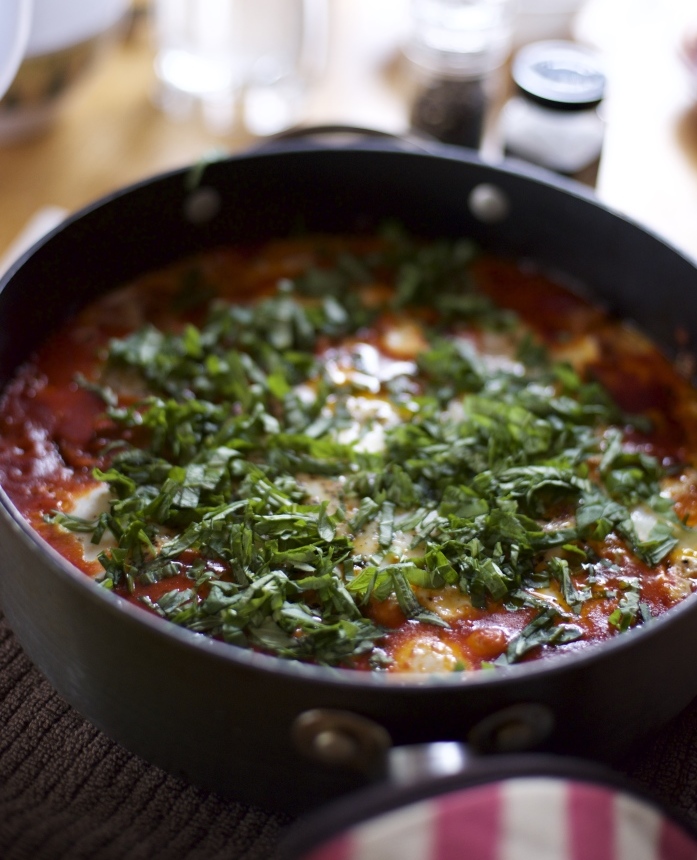 Photo by Daniel Abrams
Shakshuka
1 onion, chopped
2 jars tomato sauce (though you could use canned tomatoes, onions, garlic, peppers, etc.…)
12 pork sausages, sweet Italian
12 eggs
¼ cup Port Salut cheese, crumbled
Olive oil
Salt, pepper
Rogan Josh, to taste
Pre-heat the oven to 350 F.
In a wide saucepan, cook onions in plenty of olive oil. Add the sausage meat and stir. Break apart lightly with your wooden spoon. Add tomato sauce, salt, pepper, and Rogan Josh. Simmer for a few minutes. Crack eggs into the sauce one by one, making space for them with a wooden spoon so they nestle in the sauce. Bake in a hot oven until the whites are firm, the yolk still runny (12-15min). Add chunks of cheese a few minutes before the eggs are ready. Sprinkle with fresh, chopped basil leaves. Serve with warm bread. Thick crust soaks up the sauce better.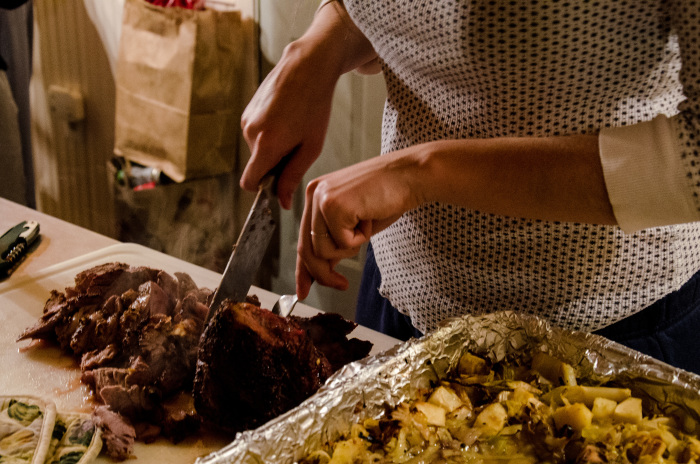 Photo by Ben Cruikshank
Lamb with Cabbage and Parsnips
Lamb shoulder (boneless 4 lbs.)
Garlic, 4 cloves, chopped
Lemon peel (from one lemon), minced
Rogan Josh
Salt, pepper
1 onion, chopped
1 cabbage, cut into quarters and then thinly sliced
4-5 parsnips cut into chunks
3 cups chicken stock
Pre-heat the oven to 400F.
Roughly chop garlic and lemon peel. Stir and set aside.
Sauté onion and cabbage in olive oil for a few minutes, until cabbage is soft. Arrange in a deep baking dish with the parsnip chunks.
Wipe the lamb with a paper towel making sure there's not extra liquid running off your cutting board.
Brown the lamb over high heat in olive oil until nicely browned. Place lamb over the parsnips and cabbage. Rub the lamb all over with salt, pepper, Rogan Josh spice, and the garlic and lemon peel mixture. Pour 3 cups of chicken stock onto the cabbage and turnips. Salt and pepper liberally. Roast in the oven for ~2 hours, until done.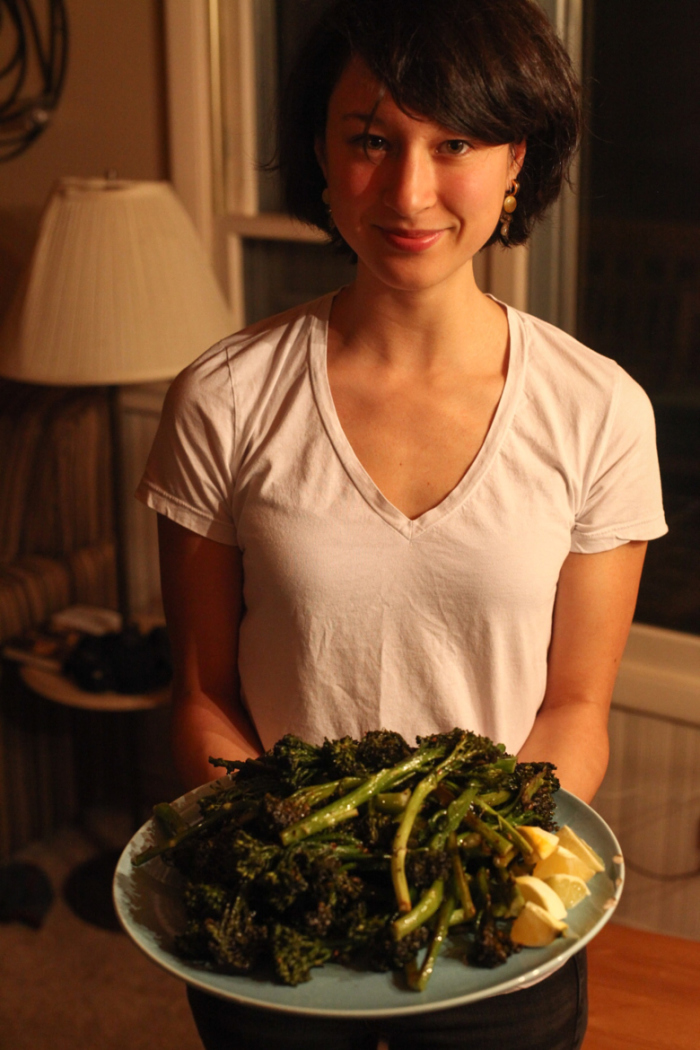 Photo by Geoffroy Bablon
Roasted Broccolini
2-3 large bunches of broccolini
Olive oil
Salt, pepper
1 tsp. red pepper flakes
Drench in olive oil, sprinkle with plenty of salt, pepper, and the red pepper flakes. Roast in the oven for 40 minutes, at 400 degrees, until the florets are slightly charred.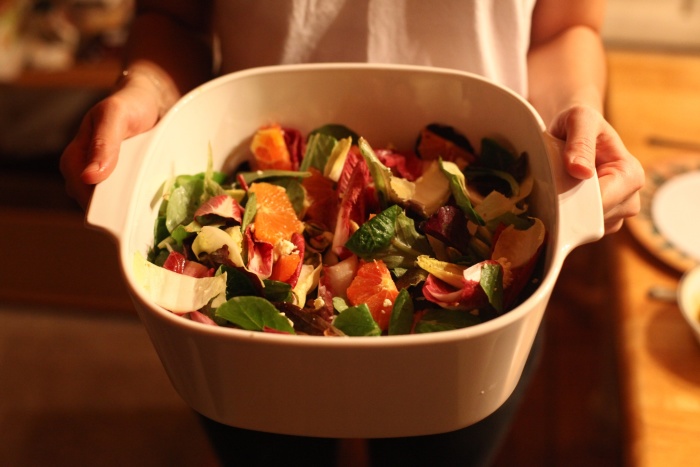 Photo by Geoffroy Bablon
Winter Endive Citrus Salad
4 endives, purple and green
Handful winter greens
¼ cup toasted pistachios, cooled
2 blood oranges, peeled and thinly sliced
¼ cup crumbled Saint-André cheese
Light dressing of olive oil, salt, pepper and lemon juice (to taste)
Toss ingredients together with the dressing and serve!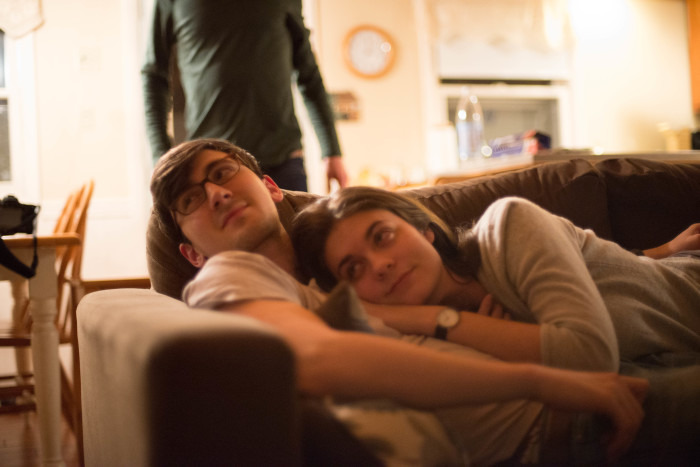 Photo by Daniel Abrams