revuelto de arroz
by
sanae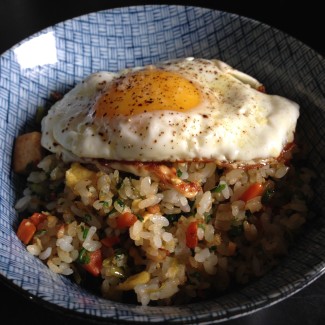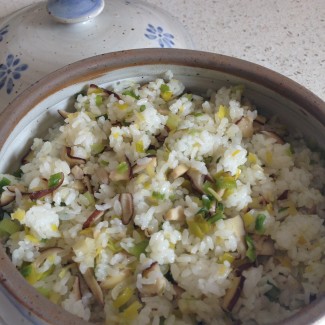 Left: rice with egg, carrots, onions, and parsley. Right: rice with leeks, spring onions (one bunch), shiitake mushrooms, and ginger. 
This rice isn't fried, my mother says, it's a revuelto de arroz. A scramble of rice, or better still, rice turned over in the pan. With a wooden spatula, she lifts and turns the short-grain rice in the pan. Clumps of warm rice roll around in caramelized leeks and carrots. In a bowl, she whisks two eggs with salt and swirls them in a pan shimmering with olive oil. She scrambles the eggs with chopsticks. The rice crisps against a medium flame. The pan hisses as my mother sprinkles soy sauce. She adds a final trickle of olive oil and gently folds in the scrambled eggs. Sometimes she makes her revuelto with coconut oil.
We used to call this dish arroz saltado, or fried rice, until we realized it's nothing like the fried rice we find in restaurants. These rice grains aren't glossy and slippery with oil. They hold together from the moisture of cooking in water, forming clusters among whatever vegetables we've found in our kitchen. The only seasoning we use is salt, soy sauce, and oil, either olive or coconut, depending on our mood. But we are adamant about using fragrant oil rather than the more neutral grapeseed. The final touch: fresh parsley leaves.
Arroz saltado was the first dish I mastered and cooked for my older brother when we lived in Australia. I was ten and he was twenty, bleary-eyed, visiting from America. At the time I knew about browning onions and chopping carrots into small squares for sweetness. I knew how to pierce cooked salmon flesh with my small chopsticks before throwing it into rice. There was always a bowl of warm rice on the kitchen counter.
Rice, in all its variations, was a snack, breakfast, dinner—our main dish. When friends visited, my mother asked if they wanted food, and if they said yes, she would cook them rice. So engrained was the arroz saltado as our signature dish of comfort food that I never imagined anyone else might also eat "fried" rice at home. I was genuinely surprised when a friend showed me his recipe for fried rice. It was my first year in New York. His movements entranced me: fish sauce, light soy, white pepper, oil and more oil, rice pushed aside to leave room for egg scrambling—which happened in the very same pan, brown, messy, electric blue flames licking a large wok! We shoveled the fried rice with spoons. It was hot and the white pepper rose to my nose. I chewed on large basil leaves. I hadn't tasted something this delicious in a long time.
But still, I am faithful to my mother's rice. And here is why. Her rice is always fresh and fluffed; it's the star of the meal. Bad or old rice will ruin your revuelto de arroz. With less oil, this dish is light and delicate, even though it is scrappy at its heart. Made with whatever you find in your fridge, it welcomes all leftover meats and fishes. If you only have eggs and onions, that's fine. One of my favorite variations is with eggs and leeks. If you have guests, they will be charmed by the subtle flavor of olive or coconut oil, by how different this is from what they've found in restaurants. You don't need a wok. Use any large, heavy-bottomed pan, or even non-stick, if you have. My mother uses an All-Clad that lends a beautiful, golden crisp to her rice. You'll find me scraping its surface at the end of dinner.
Ingredients:
2 cups white short-grain rice (see here for directions on how to cook rice)
Broccoli, cut into small florets
1 large carrot (or 2 small), finely diced
1 large leek (or 2 small), finely diced
3 eggs
Olive oil or coconut oil
Salt
Soy sauce
Parsley
Directions:
Boil water in a deep saucepan, salt liberally, and dunk the broccoli florets into the water. Allow the broccoli to boil for 2 minutes, then drain and set aside.
In a large pan, coat the surface with oil and heat over medium-flame. Cook the leeks for ~10 minutes, until golden. Make sure to stir the leeks so they don't burn. Add the carrots and cook for another ~10 minutes, stirring. Sprinkle the vegetables with salt and add more oil if the vegetables begin to stick. Stir in the broccoli and lower the heat.
Crack the three eggs into a bowl and add a big pinch of salt. Whisk quickly.
In a separate pan, scramble the eggs in plenty of hot oil. The eggs should slide across the surface and cook almost instantly. Remember, you're not making soft-scrambled eggs.
Once the rice is ready, fluff it with a rice paddle or flat spoon and transfer to the large pan with the vegetables. Increase the heat to medium. Fold, without breaking the rice too much. There should be big clumps of rice. Season with soy sauce, to taste. Add a final trickle of oil. Fold in the eggs. Sprinkle with fresh parsley, and serve.