9 days in the Yucatán
by
sanae
text by Sanaë, photos and words of advice by Geoffroy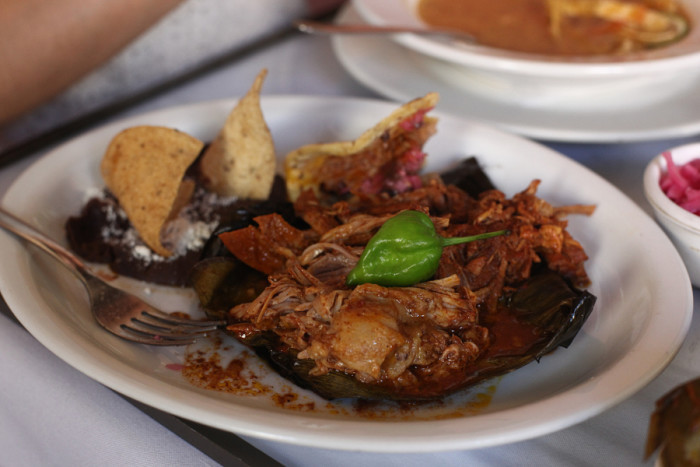 La Chaya Maya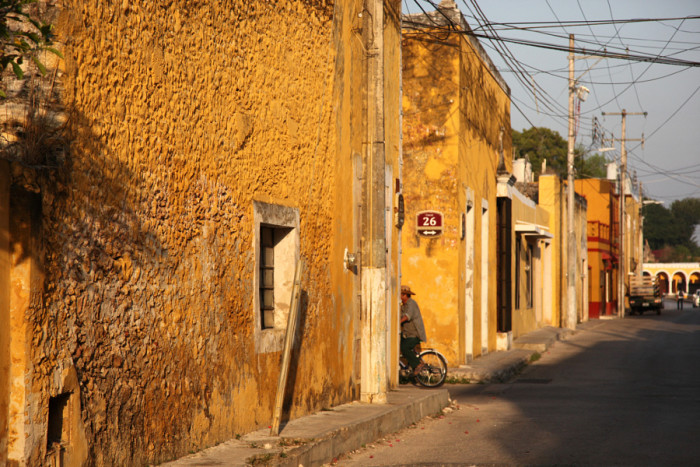 Izamal, early morning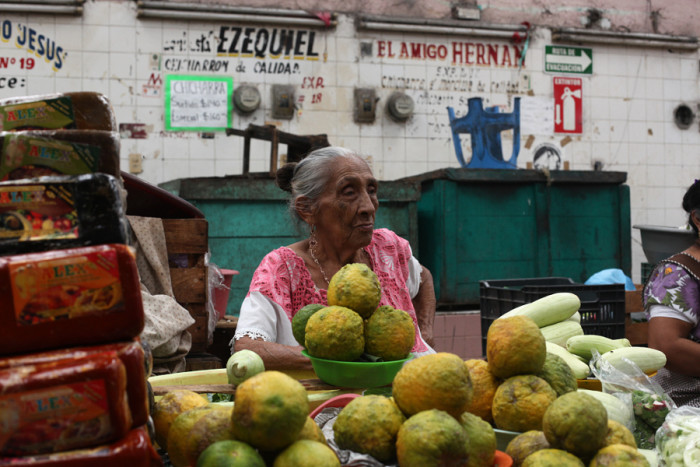 Merida, market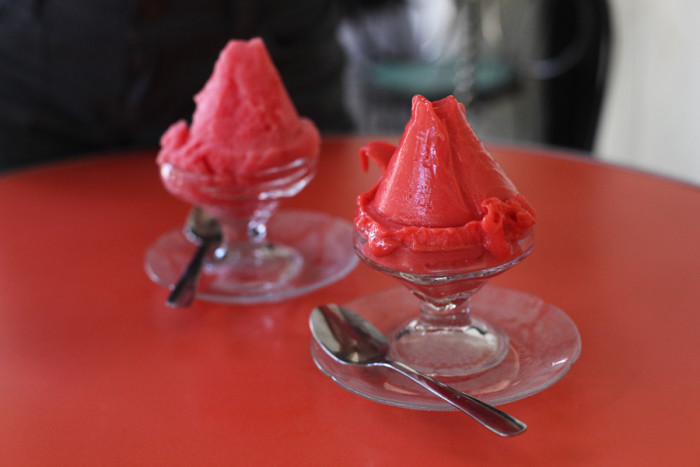 Heladeria El Colón, Merida
Cancún, arrival
We only catch glimpses of Cancún, from where we fly in and out.
We arrive at our first airbnb past midnight, in a leafy neighborhood, and we don't see what the building looks like until the morning. The building is tall, a small castle with colorful walls and a kitchen where hallways and stairs converge, like arteries to a heart. The kitchen, crescent shaped, is home to a gigantic stove with many stovetop coffee makers. We have no food, so we walk down a curved road to a nearby cafe. The neighborhood is quiet and sunlit with palm trees and sand colored roads. We enter the spacious, air-conditioned cafe. Large barrels of coffee beans line the counter. Our coffees arrive, lightly spiced with cinnamon. I order toasts (an airy, pale imitation baguette called "pan francés") smothered in beans and melted cheese, and a warm sandwich with ham and cheese.
Sak Nah guest house is a great value if you're looking to stay in the pueblo of Cancun, away from the expensive beachfront hotels. The room is spacious and clean, and Benoit is a kind host. For breakfast, we enjoyed La Nevera, just around the corner.
Merida
On our way to Merida, in the late afternoon, we see a cafe and pull over. I spy a fully equipped kitchen through an opening in the wall, and we ask a young man who might work there if the cafe serves food. The kitchen seems abandoned at first, but then an older man materializes. The decor is strange: a display of old farm tools on a rustic wooden table. I watch our server fill a Nescafé jar with instant coffee and a sugar holder with white sugar from a large plastic vat.  He arranges two cups on small plates covered with paper napkins. Each gesture is performed with scrupulous attention to detail. Meanwhile, the older man heats milk in a metal saucepan, before pouring the hot milk into cups. I've never made instant coffee, and I add tablespoons of coffee into our cups, afraid it won't be strong enough. For the first time in years, I stir in sugar. The creamy, sweet, muddy coffee is invigorating. In the kitchen, the older man breaks a chunk of masa from a big ball and rolls it in his hands. He places the dough in a tortilla press to form a thin crust for our empanada. The empanada is filled with a white, melted cheese that puddles on our plate like mayonnaise when we break it apart with our spoon.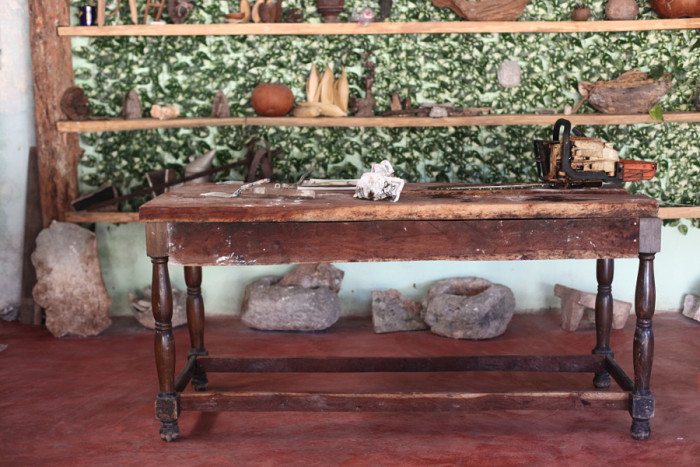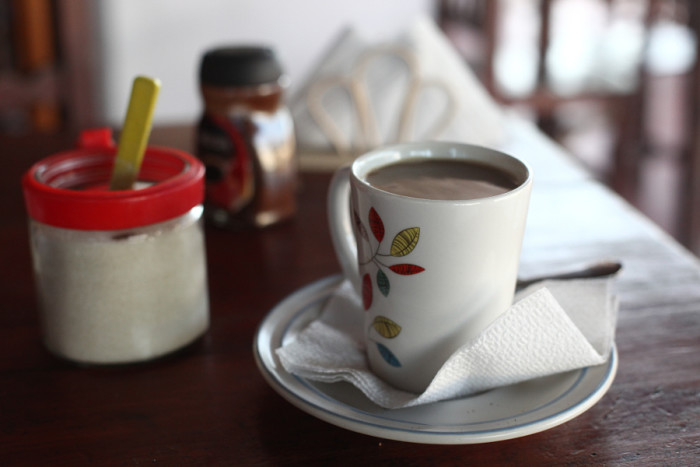 Apoala is one of the many restaurants bordering the Santa Lucia Park in the historical center of Merida. Couples openly embrace on these funny white chairs made for two. I sip on a thick and sweet avocado and mango margarita. We eat fried zucchini blossoms stuffed with cheese, bathing in a tangy yellow mole, a sauce so salty and addictive it reminds me of brine. The fish is covered in a crisp layer of masa and balanced atop green gnocchi.
For breakfast I peel and slice a mango, dense and bright orange, like the inside of a ripe pumpkin. At the market, we discover tacos de lechón with puffed chicharrones for twenty pesos. Spicy onions lend a fresh bite to chunks of slow-cooked pork, resplendent with fat. A woman gives me a green-skinned mandarin to taste. We lose ourselves in the stalls, although we can always hear the loud rumble of conveyer belts delivering fresh tortillas.
An hour later we are seated at La Chaya Maya for lunch. We were told it was a touristic spot, but I only see Mexican families seated nearby. The restaurant is housed in a beautiful Colonial building with a patio in the middle where women make tortillas by hand. We eat traditional Yucatecan cuisine: cochinita pibil (tender, slow-cooked pork flavored with achiote paste topped with pickled red onions) and tamales with chicken and peppers. The sauces for dipping are so good we finish them with our spoons. But our favorite might be the humble sopa de lima: sour from lime juice, and salty from rich broth, textured with fresh tortilla strips and shredded chicken.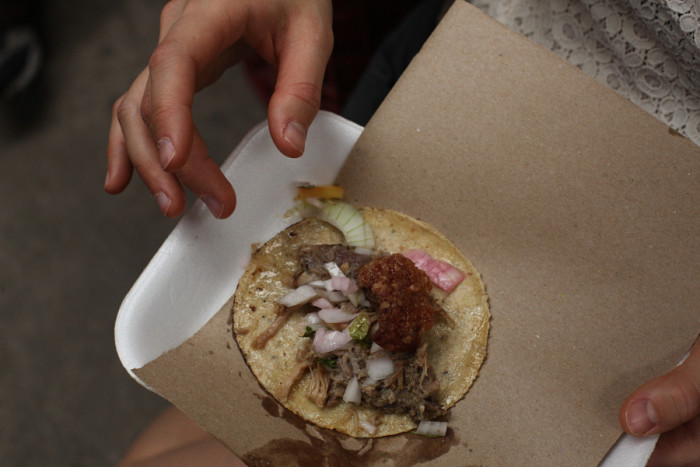 In Merida, The Carriage House of Maison Azul was one of the highlights of our weeklong trip. The house is a painstakingly restored hacienda right in the center of town, tended to with care by hosts Sherry and Stan. For dinner, we loved Apoala and the slightly fancier Rosas & Xocolate. We also enjoyed La Chaya Maya and the sandia and creamy mamey fruit sorbets at Heladeria El Colón. A highlight, slightly off the beaten track, was the city market at the intersections of Calle 56 & 67. We ate delicious tacos as we meandered through the many lively stands.
Uxmal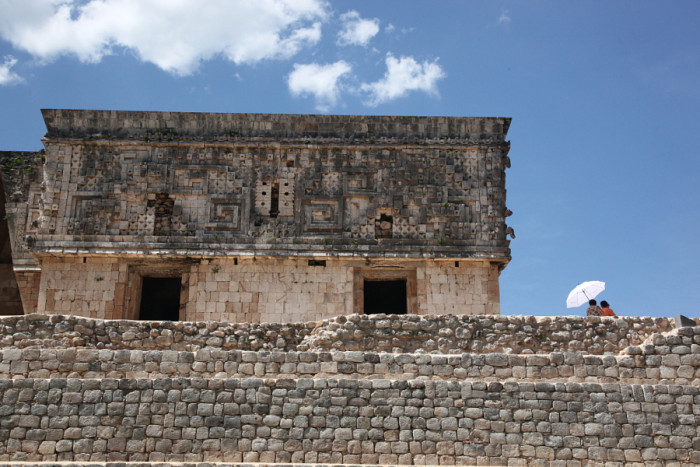 Our guide at Uxmal speaks French and carries a black umbrella to shield himself from the midday sun. He overflows with stories about the Mayans and often says, "In my opinion…" whenever he provides his interpretation of historical events. As a lover of novels, there is something satisfying in being able to indulge in a semi-imagined narrative, perhaps invented by our very guide. He speaks with confidence, and we believe him when he says there were no human sacrifices at Uxmal, unlike Chichén Itzá. He shows us the giant stone stumps, once phalluses that the Franciscans truncated upon arrival. Our guide confides in us. His father was a guard at the top of the pyramid, and once or twice he was allowed to sleep there as a young boy. "Back then visitors could climb the steepest pyramid," he explains, "but it's no longer allowed as many died upon descending, especially school children. And I saw them die," he says. The ruins are quiet, with few tourists. They weren't restored until forty years ago. Devoid of cenotes, Uxmal relied entirely on rainwater, hence the abundance of rain god Chac masks carved into the ruins. Uxmal was eventually abandoned and overtaken by wild vegetation. I climb down the small pyramid like a crab—sideways—terrified I will slip like those countless children.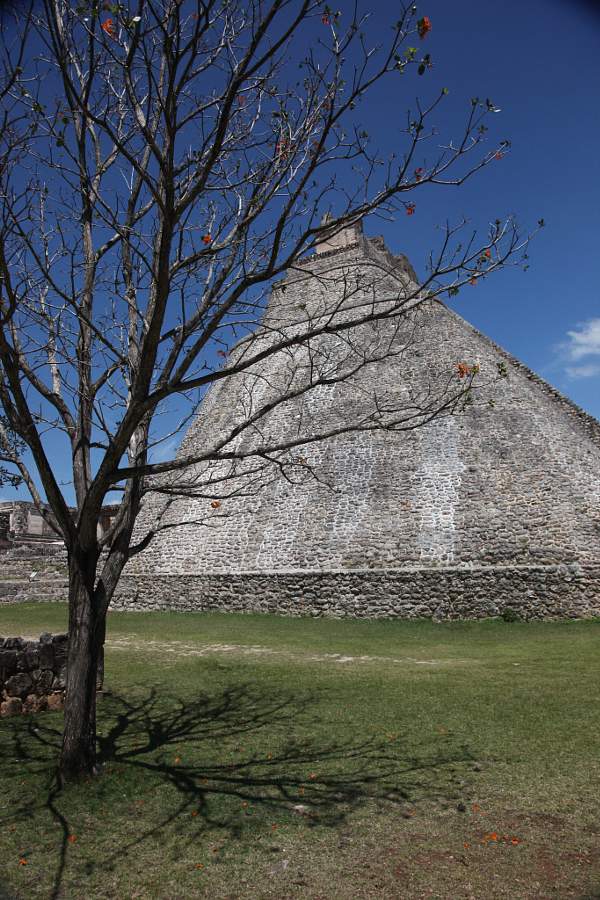 We stop at a hotel for lunch, where we are the only customers, but by now we are used to eerie silence and empty spaces. We eat another sopa de lima and its even more humble and delicious cousin, sopa de arroz—rice simmered in broth until it's broken down into a porridge.
Campeche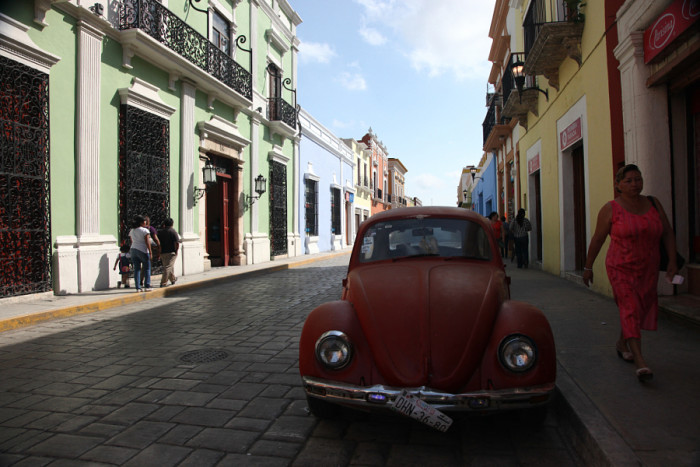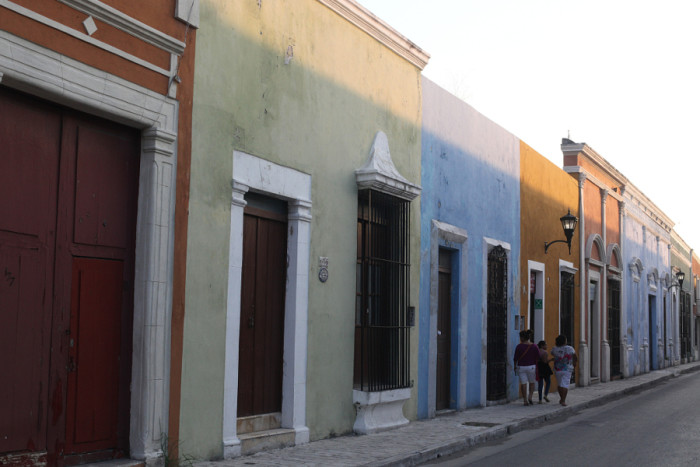 The malecon in Campeche reminds me of Havana, with families and couples strolling along the promenade, and many perched on the concrete edge, dangling their feet at the dark blue sea. Bordering the sea, Campeche replaced a Mayan fishing village in the mid-16th century and became a prominent port. After a lackluster dinner we prowl the streets for ice cream. I spot two girls eating ice creams on the Parque Principal, the main square. They gesture to a McDonald's stand and urge us to buy ice creams there. We comply, voting on a goat milk ice cream with a dark brown caramel cone.
The curious and historically inclined might enjoy a stop at the Hacienda Sotuta de Peon, 15 miles southeast of Merida. There, we visited a working henequen production (the "green gold" of 19th century Yucatán!), rode a "mule train," and dove in a beautiful cavernous cenote. The hacienda is hard to access via small dirt roads far off the telephone grid, so make sure to plan your directions well ahead. In Campeche, we recommend Gerardo's very functional "casa-estudio," quiet, cozy, and well situated.
Izamal  
Izamal is striking for the crumbling Mayan ruins peeking behind brilliant ocher yellow houses. The city, like much of the Yucatán, is a strange blending of both worlds: the great Franciscan convent San Antonio de Padua was built atop a gigantic Mayan temple.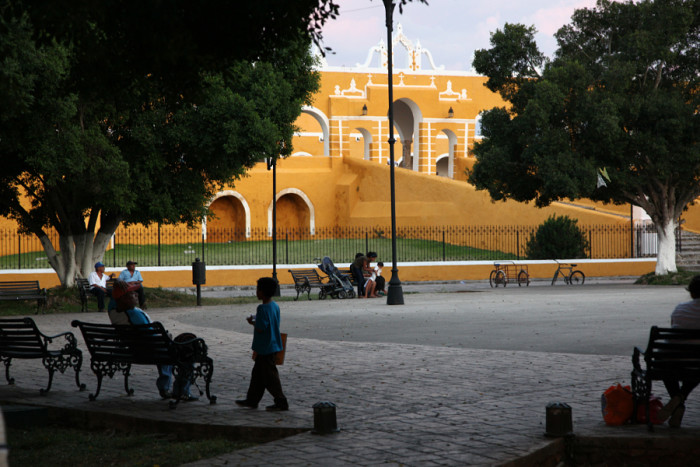 Luis is our guide for the convent. He wears a beige uniform and is very small. His body is malformed, his back all twisted, as though he has terrible scoliosis. He speaks very softly and quickly and it's difficult to know what he's saying. He often takes my hand in his small hand, saying things I don't understand. Despite my fluent Spanish, I can't tell whether he's speaking Spanish or Mayan. He shows us photos of the Virgen de la Inmaculada, brought from Guatemala, and he points at a sighting of the Holy Spirit, a bright flash in the upper right corner of a photo. We bid Luis goodbye and buy fresh slices of jicama, oranges and mandarins covered in lime and chili powder that we later eat with our fingers in the car.
Get to Izamal early so you can enjoy a stunning sunset in the central zócalo, and if you're really courageous, wake up early the next day to catch the equally beautiful colors of sunrise, when the town comes to life and hundreds of children in pressed uniforms walk to school. The colorful Macan Ché B&B, a 5 minute walk from the town center, was a great base camp for our visit. We found Izamal a little wanting in good food options. Macan Ché offers a full restaurant service, and there are a few restaurants in the centro as well.
Valladolid
We walk through streets lined with colonial houses passing by boutiques selling artisanal leather goods so expensive Brooklyn would be shamed. The sun is high and hot today, beating down on the pavement and seeping through the thin soles of my shoes. We walk by a game center and many Laundromats. Our restaurant is on the far end of the town, close to the Convento and Iglesia de San Bernadino de Siena, the first ecclesiastical building constructed by the Franciscans. We pass through a large open kitchen where three women cook (in Mexico, I almost always see women cooking in the kitchens of restaurants, and often they look my mother's age) to enter a spacious, outdoor patio, hidden in the back. Two large men with red faces and their two guides order enough food for a feast. Couples shy away from the sun. The restaurant is famous for their ojas santas, velvety green leaves as big as my hands. We find them growing in the patio and as a second skin in our soft tortillas. This place reminds me of a yoga center: the chanting music, vegetarian salads topped with sprouts and seeds, ginger lemon cleansing water. We haven't eaten a vegetarian meal since we arrived, not that we mind, as we both love meat. Everything we've eaten until today has had the rich flavor of meat: beans cooked in pork fat, rice boiled in chicken stock, eggs studded with bright pink ham.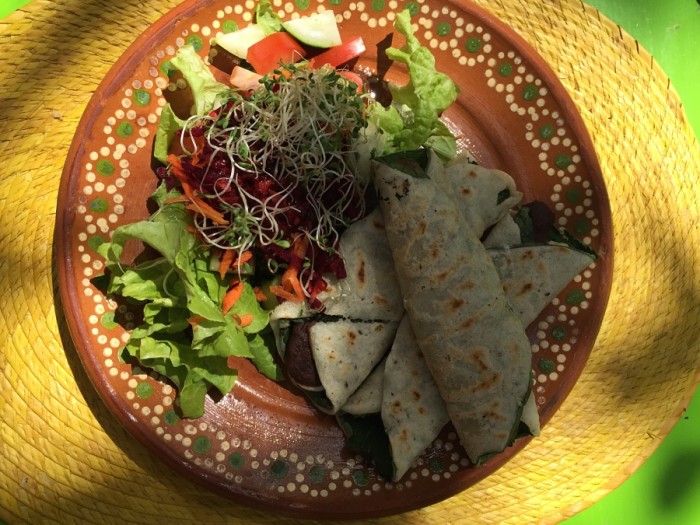 We enjoyed a light lunch at Yerbabuena del Sisal, just across from the Convento de San Bernardino and the lovely Parque Sisal. On our way back to the central zócalo, we tasted delicious hot chocolate at the Fabrica de Chocolate y Cacao. A short tour showed us how cacao was traditionally cultivated in the Yucatán, and had us try a dozen different flavors: chocolate with tequila, anise, vanilla, coffee, and more…
Tulum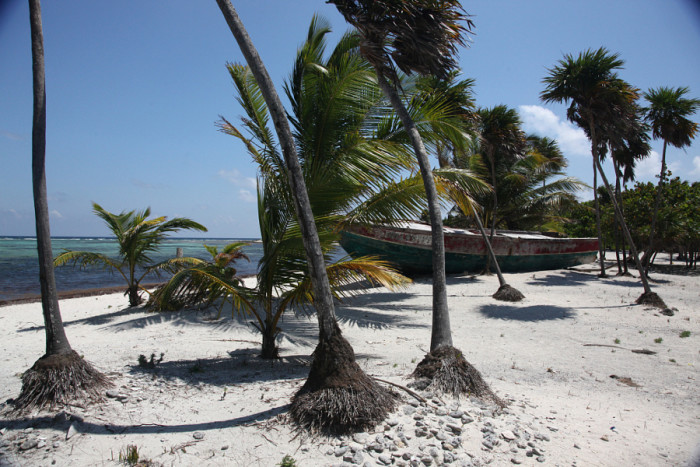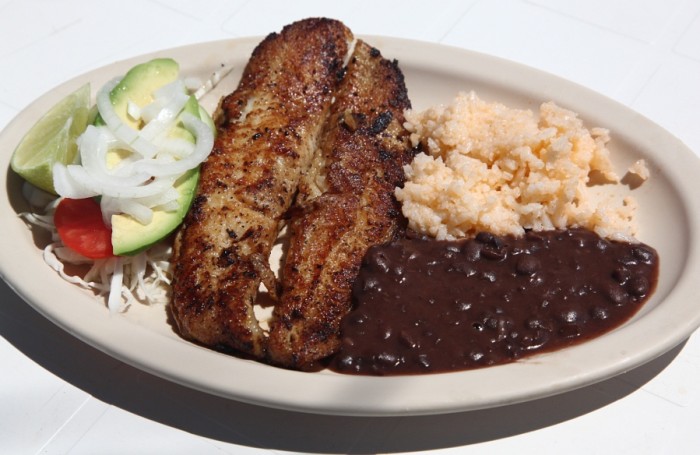 Chamico's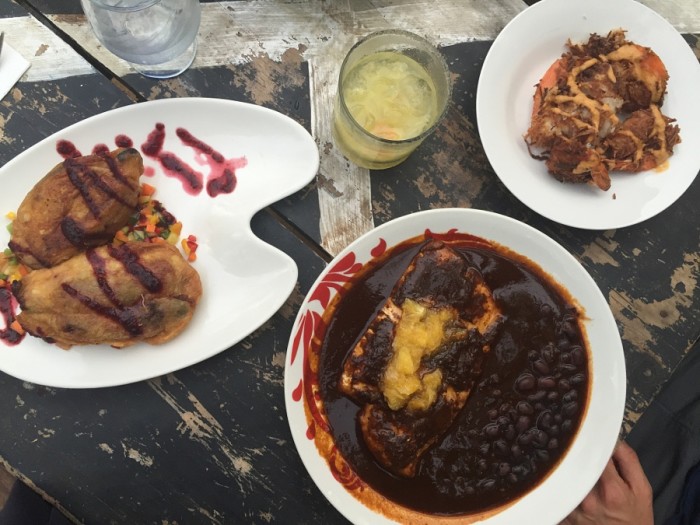 El Tábano
We arrive in Tulum in the late afternoon. Seeing so many tourists is disorienting. We walk along the beach in a daze, afraid to tell the other what we think of our much-awaited beach stop. Everyone is tanned and young on this stretch of beach, and many wear beautiful, expensive bathing suits. Almost everyone speaks English, whereas we've barely used English since we left Merida. Finally, when we speak, we say how astonished we are to be surrounded by tourists, even though we are no different. We dip into the warm water of the Caribbean Sea. At least the sea is empty—and mostly remains empty during our stay—even when the beach is packed during high hours. The waves are rough and swirling with seaweed. Throughout the day we see men piling seaweed into carts, clearing the sand for hotel guests. I'm reminded of Brittany, where we wade through gunk and pungent seaweed before finding open water. Children are used to seaweed beetles popping under towels and jumping onto their legs.
Our apartment in the center of the pueblo has smooth, concrete floors, an outdoor kitchen, and a refrigerator not so far from our bed. I listen to its erratic humming before I fall asleep. Aside from a trail of ants along the wall, the space is impeccably clean. In the mornings we sit by our kitchen drinking strong coffee, only because I never know the ratio of coffee to water for a drip coffee maker, and I'm too afraid I'll make it watery. The pueblo is quiet in the morning, but at night we hear music pounding from nearby bars, troupes of young men and women weaving through the streets.
Some of our best meals are in Tulum. I told myself we wouldn't go to Hartwood, making peace with my decision. But then I find myself queuing at two in the afternoon, and when we snag the last reservation for that night, I am elated. A few hours later, when we sit down at the bar, I'm anxious the food won't be as magical as others promise. And yet, every dish we order dazzles. Ceviche in mescal, the citrus sauce has only barely cured the fish, and I'm transported to Kyushu where I ate sashimi so fresh it tasted like the sea. Agave ribs, the crust thick and caramelized and beneath, steaming layers of flesh and fat fall from the bone. The wood fire octopus, the tips of its tentacles charred, the thicker parts tender like the center flesh of scallops. The Jicama salad restores my faith in Jicama: coated with a creamy mint sauce and popping with roasted pepitas. The Mexican turnip is bright and crunchy like watermelon rind. For dessert we order two flavors of ice cream, cinnamon and corn, the latter has whole sweet kernels folded into the cream.
Our favorites:
Lodging in Tulum is tricky. The pueblo is more affordable, but even with a car, it's less convenient (you didn't come here for the pueblo!) Beachside accommodations are expensive, and from what we've heard, service varies from place to place. During the day, we really enjoyed hanging out at Zamas beach & restaurant – quiet and unpretentious. If you're going to check out the ruins, try to do it right at opening hour, or be ready to face a throng of tourists.
Cancún, departure
Our last night in Mexico we return to Cancún, in a very different neighborhood with iron bars separating our apartment from the street, and the sound of cars beeping in the distance. Hotels and small convenience stores line our block. Men carrying beers amble down the street as we unload our car.
Cancún was a sleepy seaside village before the 70s. Hard to believe when one drives through the dense center and the hotel district east of the airport. Each hotel outdoes the next with majestic, illuminated entryways separated by long stretches of dark walls.
A note on driving in Mexico: If you're venturing further afield than the Caribbean coast (ie. Merida, Campeche, etc.) and don't have a lot of time on your hands, rent a car. Buses only run the big routes, and even then, not that often. Note that car rental quotes don't include any of the several forms of insurance you'll want (liability, theft, collision, etc etc.) so be sure to factor those in when calculating rates. We had a terrible experience with Europcar in Cancún and wouldn't recommend them. Driving in the Yucatán is for the most part a delight, though beware of sunbathing iguanas (seriously!) and dangerously short merging freeway on-ramps where you don't have the right of way.