galette pissaladière
by
sanae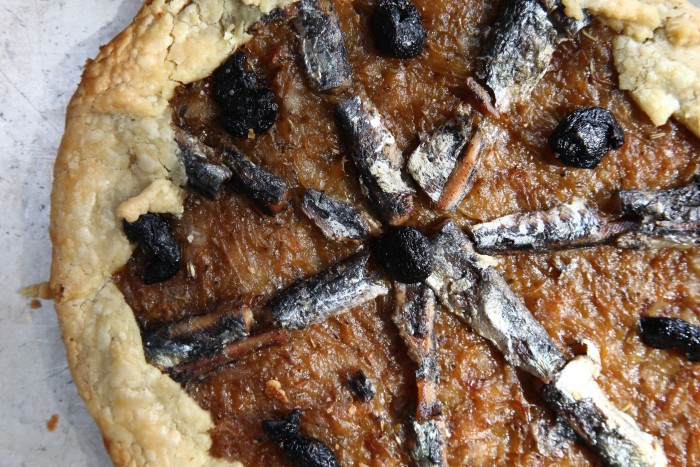 Until recently our summer in New York has been gentle and mild, while across the Atlantic, Europe wilts under a ferocious heat wave. I haven't been as afraid to fire my oven, and it's been a summer of baking, or more precisely, of galettes.
My love affair with galettes began late. I've always had a soft spot for quiches. The quiche Lorraine was one of the first recipes I mastered in high school: it came together so easily with supermarket all-butter crust, cream, eggs, and lardons (bacon pieces), and it always looked beautiful. It was easily transportable, could be eaten as a snack, and was even good at room temperature. When I arrived here eight years ago, I was dissatisfied with store-bought piecrust. I started making my own from scratch and was stunned by how quickly I could make the flakiest crust. After reading this wonderful article on how to make a galette without a recipe, I started experimenting with different fillings, and so I was lured into the camp of galette-makers. Here is why:
The galette's rustic beauty has nothing to do with your prowess as a baker. It simply is. Jagged corners and a golden hue, an unruly filling barely contained within its folds.
It is endlessly adaptable, in form and content. Shape the galette as you wish: large folds covering most of the filling, allowing for a small, colorful center; small wavy folds, leaving large swaths of filling exposed to the oven's heat (if you prefer the tops of your greens slightly charred). Go wild with your filling: a base of ricotta or sour cream, toasted almonds for crunch, and a bed of greens; cumin-spiced squash; raisins and goat cheese; a thin layer of jam and fresh seasonal fruits…
The last galette I made was inspired by the pissaladière, a specialty from the South of France. Elizabeth David, an authority on French cuisine, writes, "Pissaladière is not so common nowadays as it was before the war, when it could be bought hot from the oven in the early morning at every street corner in the old quarters of Marseille and Toulon." Provence's pizza, the pissaladière, is made with a yeast-leavened dough, onions, sometimes tomatoes, anchovy fillets and black olives.
I've taken this filling for a galette. The onions are patiently stewed in olive oil and herbes de provence to form a thick and creamy base. On top I arranged slices of anchovy fillets (I used olive oil packed anchovies) and olives. The filling is left almost entirely exposed, with tiny folds along the edges so the onions continue to caramelize in the oven. The galette has no cheese, but it's rich from the onion compote. The black olives and anchovies provide pockets of intense, briny flavor. Your slice of galette will be happier with a dark green leafy salad.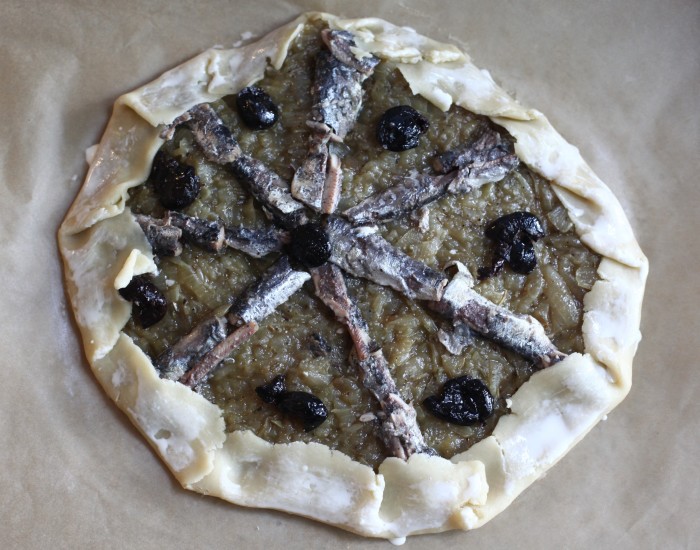 Ingredients:
I use this crust recipe, and the result is always spectacular. I only need 1 tablespoon of apple cider vinegar stirred in ¼ cup of ice water. I try to use as little water as possible.
Filling
2 large onions, peeled and sliced thinly
1 tablespoon herbes de provence
6-7 anchovy fillets
7-8 black olives
Coarse salt
Freshly cracked black pepper
1 egg for the egg wash
Directions:
Coat a large saucepan with a thick layer of olive oil, throw in the sliced onions, and cook over medium-heat. Season with herbes de provence, salt and pepper. Stir frequently, making sure the bottom doesn't stick. You can lower the heat and cook over a low-heat for about 30 minutes, until the onions are golden. Set aside to cool.
Preheat the oven to 400 F. Roll out your galette crust until you have a large, thin disk. Don't worry about an imperfect border. I recommend placing the crust on parchment paper on a baking sheet, as it'll be difficult to move once filled. Lather the crust with the stewed onions and arrange the anchovy fillets on top. Fold the sides of the crust over the edge, barely covering the onions (see photo). Make the egg wash by whisking the egg with two tablespoons of cold water. Brush crust with egg wash and bake in the oven for about 30-40 minutes, until the crust is golden. Before serving, arrange the black olives on top (this prevents the olives from burning in the hot oven).
Serve with a green salad. I recommend dressing your salad with only a squeeze of lemon and a pinch of salt and pepper. The galette is fairly rich from a butter crust and olive oil stewed onions.