le gâteau breton, a butter affair
by
sanae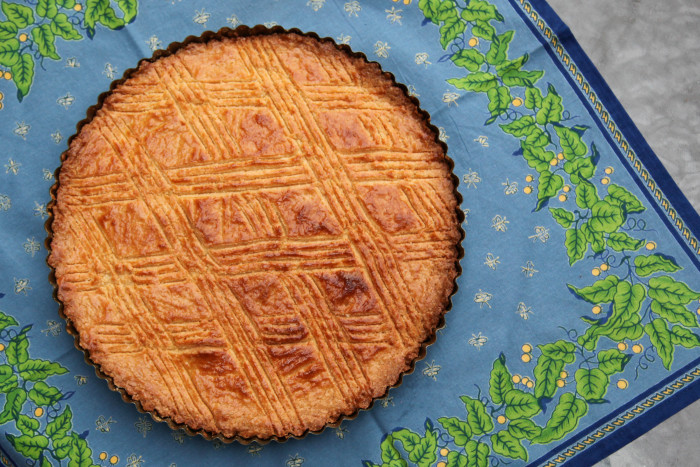 These past few months I've been busy in the Marley Spoon test kitchen, and along the way, even though I was still cooking in my own kitchen, I lost the habit of writing recipes at home. So attuned was my culinary mind to 30-minute dinner meals that I almost forgot one could cook something as audacious as a cake with more than half a pound of butter.
I sat at my kitchen table to reflect on what I love to cook and eat. The list is long and unwieldy, as it tends to be for many of us, but I did circle back to one thought. The other day in the test kitchen, our culinary director said, laughing: "I feel that I really get Sanaë with those meals she was deprived of when she was a kid." As she spoke, I devoured a second meat loaf burger served with ketchup and rice. Between bites I repeated, "This is delicious!"
I couldn't agree more, though there's something else, too. While I certainly wouldn't have come across those meat loaf burgers during my vegetarian and macrobiotic childhood years, this is just the kind of meal that reminds me of Japanese home cooking, which I invariably associate with my mother. Moist ground beef flavored with grated onion and Worcester sauce soaking into steamed white rice. It wouldn't be the same if the patty were on a bun. I was transported to my mother's ground beef fried rice. What really gets me is food that also, even if just peripherally, evokes flavors of my childhood.
This naturally brings me to salted butter. If a bowl of rice is my better half, salted butter is my long-time lover. I can't remember a time when I didn't hurry to lather bread with a slab of butter, thick as pâté. I'm often embarrassed by how much salted butter I need to be happy with my toast. And in the gâteau Breton I find the true embodiment of my love for salted butter. A traditional cake from Brittany, it relies entirely on butter, flour, sugar and eggs. The flavor of butter laces each bite with a soft richness; its consistency follows suit: a moist egg yolk golden interior and a crumbly crust along the edges, similar to a shortbread. Perhaps it's best to think of this cake as the perfect marriage between shortbread and pound cake, where salt also does that magical thing of enhancing sweetness.
We don't know very much of its origins. Some say the gâteau Breton is a relative of the palet Breton, a thick butter cookie with a friable texture, often savored with coffee. According to the regional newspaper Ouest-France, the cake was invented in Port-Louis on the coast of Brittany and was first presented at the exposition universelle de Paris in 1863. Because the cake keeps well, and some say even improves with time, Breton sailors took pieces wrapped in cloth for their long voyages. If we believe those sailors, the cake can be stored for up to two months.
The following recipe is for a plain gâteau Breton, but do feel free to try different combinations. For instance, a tablespoon of dark rum or orange flower water adds a lovely fragrance. You could also swap out ⅓ of all-purpose flour for ground nuts (almonds or hazelnuts) or buckwheat flour. If you fear your butter isn't salted enough, add a teaspoon of coarse salt. Because there are so few ingredients, I encourage you to choose the best quality. This might be the cake to splurge on a European-French salted butter. Regardless of the butter you choose, make sure it has a high fat content for best results.
Gâteau Breton
Ingredients:
300g/1¼ cups salted butter, cut into small pieces
300g/2¾ cups all-purpose flour
200g/1 cup granulated sugar
5 large egg yolks + 1 egg yolk, lightly beaten
1 Tbsp baking powder
Directions:
Preheat oven to 350ºF. Butter a tart pan with a removable bottom.
Whisk flour, sugar and baking powder in a large bowl. Add butter and mix with your fingers until butter is incorporated; the texture should be similar to that of a pie crust (crumbly, sandy). Add egg yolks and combine with your fingers until the batter just comes together. It will be thick and sticky, a cross between a cake batter and a pie crust.
Spread batter in the pan, smoothing evenly with the back of a spoon. Finish with your fingers and palms, pressing down gently until the surface is smooth. Brush top of cake with beaten egg yolk. Use a fork to scrape the surface with a cross-hatch design. Bake until surface is deeply golden brown, 35–45 minutes. Let cool on a wire rack before serving. To store, wrap the cake well once it has cooled down and leave at room temperature in a dark place.