teachers who bake
by
sanae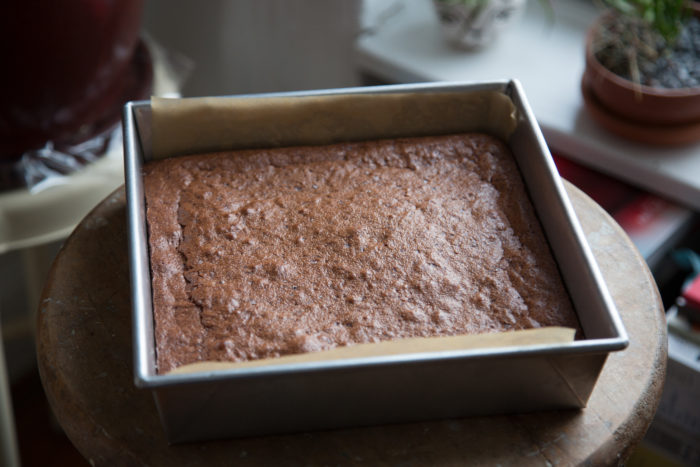 I've always had a soft spot for teachers who bring food to their class. It reveals something about them, a glimpse into their intimate life: the flavors they enjoy, whether they cook at all—like discovering a signature scent.
I remember a professor of Renaissance poetry my sophomore year. She was beautiful and elegant, with silver-streaked hair and long legs. She wore silk blouses, tailored skirts, high heels, and made us students feel even more like slobs in our jeans and tee shirts. Above all, she was brilliant. Her interpretations of texts felt like nourishment for our souls. I studied for hours, terrified of how little I knew about poetry. The last day of the semester, she brought us oranges and homemade cookies. The cookies were in a deep round tin and the oranges loose. She set them on the seminar table and they rolled to the center. We passed the tin around, each student taking one cookie and eating it slowly. A few ventured to the oranges and struggled to peel them with their nails. The cookies were Italian wedding, I think, buttery nut balls rolled in powdered sugar. She told us she'd baked them in the middle of the night. I didn't know anything about her other than the Renaissance texts we studied, and to imagine her in a kitchen—creaming butter and sugar, toasting the nuts, rolling the balls in powdered sugar, flour on her apron—was extraordinary! She was the definition of refinement, and those snowball cookies, to this day, remind me of her.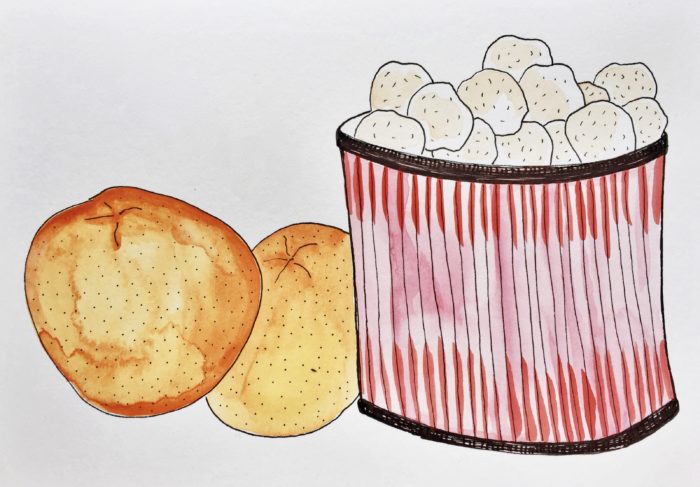 A few years later, in graduate school, Melissa Clark walked into our classroom carrying a chocolate cake. Granted, she was teaching a food writing course, but still, the depression-era cake made with mayonnaise was a small window into her life. She told us her daughter had helped her make the cake that very morning. The cake was baked in a sheet pan so it could feed us all, its texture moist from the mayonnaise and its color dark from cocoa powder. I later learned that when Melissa Clark was a graduate student at Columbia's MFA, she took a class with Betty Fussell who brought in a similar chocolate cake and asked her students to guess the secret ingredient, mayonnaise, in order to highlight the importance of context in food. I loved how the cake exercise was carried over from her student years, as if we might also absorb Betty Fussell's spirit.
And during a year-long novel writing workshop, our professor brought snacks to class every week. It was a difficult year, strong opinions often clashing, submissions of 100 to 200 pages. We were warned: the book you are now writing might be the book that will allow you to write your first book. Imagine! What did the snacks do for us? First, no one was mean because they hadn't eaten lunch. Second, here was something we could share on the table, other than our writing. I sensed we were better off with those snacks and I was always grateful to see them appear, week after week; perhaps they distracted us from the pain of critiques.
When I first started teaching, I thought about what baked good I'd bring to my class. Something very simple and foolproof and without any obvious allergens (no obscure sweetener, no nuts). I chose brownies. I didn't yet know they'd become a tradition—to this day, I've never started a semester without baking a batch of brownies. Truth is, they symbolize a celebration of sorts. Here we are, one teacher and fourteen students, embarking on the impossible adventure of learning to be better writers and readers, building a small community of thinkers, trusting each other with feedback when we are at our most vulnerable.
This recipe for brownies is the easiest and quickest one I have up my sleeve, and a few adjustments over the years have yielded my favorite kind of sweet. A balance between decadence (two sticks of butter) and a light crumb (sift in the flour and fold until just incorporated). Packed up in a Tupperware or wrapped in their baking pan, they can be transported on the subway and then served on squares of papers towels. I usually have the ingredients in my kitchen, so perhaps you will too?
Note: because this recipe has so few ingredients, it's important to select them carefully. Use a good, high-fat butter and a flaky, delicate salt like Maldon for sprinkling on top. I like to add the salt before baking so it adheres to the brownie, though you won't see the flakes in the finished product. You're welcome to sprinkle the salt at the very end, before baking, if you prefer the visual effect of salt crystals.
Salted Brownies
Ingredients:
1 cup (2 sticks) butter, cut into 1-inch pieces, plus more for the baking pan
8 oz chocolate (semisweet, or 60% and above), broken into small pieces
¾ cup all-purpose flour
½ tsp baking powder
1 tsp coarse salt + flaky salt for sprinkling
3 large eggs
1 cup granulated sugar
Directions:
Preheat oven to 350ºF with a rack in center position. Grease a 9-by-9-inch baking pan with butter and line with parchment paper. Melt butter and chocolate in a heatproof bowl (in the warm oven, set over a saucepan of simmering water, or in a heavy-bottomed pot on the stove over low heat). Set aside for 10 minutes until no longer hot.
In a small bowl, whisk flour with baking powder and 1 teaspoon coarse salt.
In a large bowl, whisk eggs with sugar until combined and pale. Add chocolate mixture and whisk to combine. Sift in flour mixture through a fine-mesh sieve and, using a spatula, gently fold in until just incorporated (careful to not over-stir the flour).
Pour brownie batter into the baking pan and sprinkle with as much flaky salt as you'd like. The salt will balance the decadent sweetness. Bake in the oven until just set (a knife will come out with a few crumbs clinging to it), 25–30 minutes. You know your oven best. If it runs hot, start checking at 20 minutes! I know my oven takes 28 minutes to bake these brownies. Allow to cool completely before slicing.