I'm delighted and honored to feature Sara Zin's beautiful artwork in this post.  
For more paintings, visit her illustrated cookblog: starving artist (and perhaps cook a recipe or two!)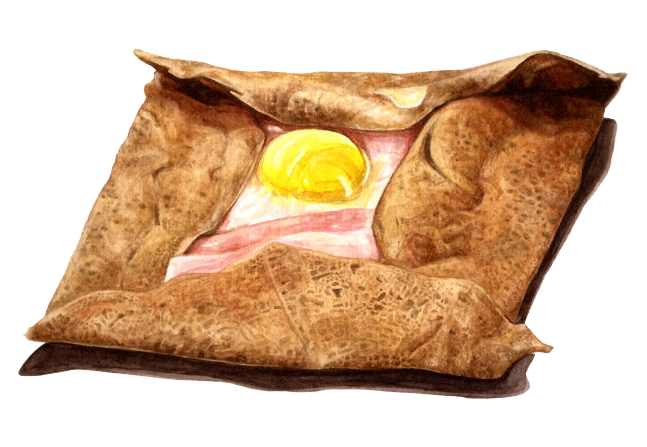 1987, La Vallée, Bretagne. Not many have seen a Japanese woman when my mother arrives to this quiet country road lined with cornfields where my great aunt Germaine kills her geese once a year. My mother speaks French and has cooked her way through Argentina. She knows buckwheat from cold soba noodles that she ate with finely sliced spring onions and shredded seaweed, dipped in sauce. In Japan, she says, pillows are filled with buckwheat hulls the size of pearls to cool one's head throughout hot, humid summers.
Her first galette with my father is in Saint-Malo – a port on the northern coast of Brittany – at a small restaurant owned by an old woman. My mother doesn't like the heavy fillings of cheese and egg so she asks for mushrooms in hers and is horrified when she discovers canned mushrooms hidden beneath the buckwheat folds. This must be an afternoon snack, she tells herself. Later we will sit down for a "real" meal. But there is no "dinner" like in Argentina with many courses, and so that night she nurses her cold feet in the bidet of her future in-law's bathroom, for April is often a cold month in Brittany.
She falls in love with the land and urges my father to renovate a tiny square house once used to store potatoes. The stone walls are as thick as our forearms. My mother and I live in this house during the summers. She names it la casita or la petite maison in French. The ceilings slant so low that we crouch in the bathtub to shower. Down the road we watch Germaine cook galettes in a small, dark kitchen where she keeps her birds in a cage, hanging above her head. There, she chats with the birds as a gas crêpière smokes. She flips soft, spongy galettes onto a large plate. Hers are famous for the handful of grey salt she throws into the batter.
But do you like galettes? I ask my mother, as she tells me these stories.
Oh, of course, I love galettes, but not with canned mushrooms.