lemon
by
sanae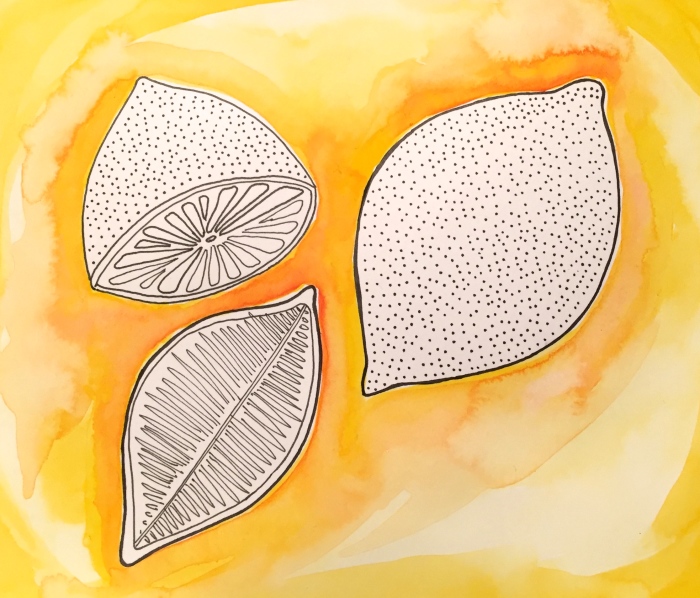 Our school in Melbourne organized camping trips every year. We would drive away from the city with two or three parents accompanying our teacher. We stayed for a week or so in a rudimentary camping ground with a communal kitchen. One summer we found ourselves lost, off-trail, in the middle of the Australian bush. The mother of a classmate gave us lemons to suck on, telling us they helped with mountain sickness. I can't imagine the mountains close to Melbourne being all that treacherous, but our water bottles were only half filled and many of us wore cotton shorts, barely equipped for climbing over large and dusty rock formations. Our thighs were soon scratched by roots and twigs, our clothes streaked with soil, and what had seemed like a joyful adventure began to frighten us. We could tell the adults were worried. They had no phones and our teacher had started to yell "mountain calls" in the hope of attracting another group of hikers. The lemons eased our nervousness. I remember watching the beautiful mother – she was younger than the other parents, she had long black hair and dark red lips – as she held the lemons firmly against a flat stone and cut with her swiss knife.
I envied my classmates who sucked on the lemon quarters. I hated lemons. I found them too sour to even taste with my lips. But the mother seemed to know what she was doing and I took a small lick of lemon piece. Our fear settled. We set off with more resolve, climbing up the rocks until we found the trail again. An hour later we came across a stream to fill our empty bottles.
Summers in Australia can be hot, temperatures easily climbing to forty-three degrees Celsius in mid-day, and because the ozone layer is so thin we were taught as children to cover our arms and apply sun proof zinc to our noses. By the time we arrived to camp the lemons were gone and we were hot. We ate sandwiches with leftover sliced sausage, warm from sitting in our bags.
I've often thought of the mother who had known to bring lemons, how visibly unruffled she appeared, while our teacher jutted out his chin, his eyes crazed and bulging as he circled his mouth with his hands and cried into the valley, HEY-HO!
But it took years for me to begin enjoying lemons. I stayed away from them, especially when I saw lemons in desserts. Lemon tart was my archenemy: cloying sweetness combined with sour citrus. Terrible!
I learned to love lemon in 2011 when I had dinner at a friend's, out in the twentieth arrondissement of Paris, close to Télégraphe. The meal was a delight from the beginning: grilled prawns bathing in an olive oil infused with fresh basil, garlic and red peppers. The oil was a deep, rust color, in which swirled dark green basil leaves. We unshelled the prawns with our fingers and soaked rice in fragrant oil.
By the time dessert arrived our lips and fingers were shiny with oil. I wiped my hands on a paper towel. The dessert was served in delicate glasses. At the bottom of each glass were freshly crushed raspberries covered with a layer of crumbled ginger snaps, shards of lemon gelato, and a scoop of whipped cream.
The unsweetened and thick cream softened the edge of lemon gelato. The ginger snap cookies soaked in the muddled raspberries. We dug into the bright layers with our little spoons, stirring and scraping until the recipients were empty.
I had never thought of combining cream with lemon gelato, and I was surprised by how much I loved the two together. When my father offered to teach me how to make his famous lemon cream – a recipe from his close friend and chef Philippe Mouchel – I was curious, rather than skeptical. Whenever I visit, my father makes this cream. The steps are few and simple, but each one is accorded meticulous care: heating the cream slowly and infusing it with lemon peel, weighing the ingredients to the gram and preparing them in bowls.
Ever since, I have fallen for lemon in cakes, tarts, creams, and even spaghetti sauce.
lemon cream
(recipe from Philippe Mouchel's Food and Stories)
So versatile and forgiving – this lemon cream has never failed me. The sharpness of lemons is balanced by rich cream and eggs. If you like a less sweet dessert, don't be afraid to reduce the sugar to 70 grams. Traditionally this cream is served chilled, though I enjoy it best as it melts within a hot crêpe, each bite bursting in my mouth like a sweet lemon dumpling.
Ingredients:
500ml heavy cream
2 organic lemons, zested (you can peel the skin from the lemons with a peeler or a sharp knife)
1 lemon, juiced
100 grams sugar
1 whole egg
3 egg yolks
20 grams flour
If serving chilled, to decorate: berries and fresh mint
Directions:
In a deep, thick-bottomed saucepan, bring the cream to a boil, turn off heat, add the lemon zest, and leave to infuse for thirty minutes.
In a bowl, beat together sugar, whole egg, and egg yolks until very pale. Add the flour, the lemon juice, and beat again. Strain the infused cream into the mixture and stir well.
Transfer the contents of the bowl to a deep saucepan and over low heat, bring the mixture just to a boil, whisking constantly. The cream will thicken until it coats a spoon with a velvety layer of cream, a little like pumpkin soup. Pour into a bowl to cool, then cover with plastic film and refrigerate. Set aside until ready to serve.
Make sure to taste the cream when it's still warm – I find it delicious eaten as a warm custard. You can eat it cold, served in small bowls or glasses and decorated with berries and mint, or at room temperature with crumbled shortbread, or you can spread the cream in a pre-baked tart crust for a lemon cream tart. My favorite way to savor this cream is as a crêpe filling. Drop a spoonful on the hot crêpe and let the cream slide across the cooking batter, melting slightly along the way. I imagine it would work just as well on top of pancakes.
Happy citrus season!