gyoza, raviolis
by
sanae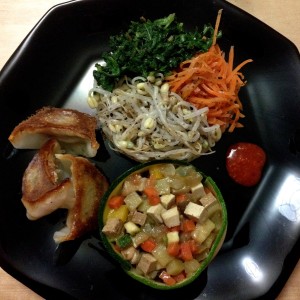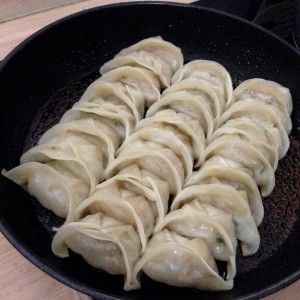 I ate the best gyoza on the top floor of a shopping mall in Fukuoka this summer. My mother and I were traveling around the island of Kyushu and ended our trip with dinner in Fukuoka. She was taking the Shinkansen to Osaka and flying back to DC whereas I was continuing on alone to Tokyo to stay with an aunt I hadn't seen in ten years. Japanese fancy shopping malls are famous for their food courts and selection of fairly expensive and well-regarded restaurants. We were tired from the many trains we rode to castaway villages where we discovered our ancestral lands, ate sashimi, and looked at pottery.
That evening we rode the elevator to the top and circled the floor, unable to choose from the colorful plastic displays of food. We settled on a ramen restaurant. My mother didn't want ramen, so she ordered rice and gyoza. The gyoza arrived glistening and fat, the skin a rust brown, the inside squirting with hot pork juices. We swallowed them and ordered a second serving.
This winter I asked Miyuki to teach me how to make pork gyoza, or "ravioli," as she calls them in French. She had just returned from a long trip to Japan and was eager to continue on her Japanese cooking spree. Junka, her son, loves his mother's raviolis. We ate them boiled, so hot they burned my tongue, then pan-fried, golden and fragrant from sesame oil. Miyuki's gyoza are only lightly flavored with soy sauce, ginger, and sesame oil. I like that this recipe calls for few ingredients. Pork, cabbage, ginger, vermicelli, and shoyu—no need for fancy sauces or sugar. These are truly divine. Thank you Miyuki.
Ingredients:
200-300 grams ground pork
Vermicelli noodles (known as Harusame in Japanese, we used a small handful)
2 dried shiitake, soaked until hydrated and chopped into small pieces
6 Chinese cabbage leaves (Hakusai)
2-inch piece ginger, peeled and grated
Salt and soy sauce to taste
2 tablespoons of grated potato or potato starch
Cilantro, finely chopped (to taste, use a few sprigs)
Sesame oil
Grapeseed oil
Gyoza wrappers (we used two packs)
Directions:
Cook the vermicelli noodles following the directions on the package. Drain, chop roughly, and set aside.
Chop the cabbage very finely and add a teaspoon of salt. Let it sit in a colander for half an hour. Drain the cabbage of any excess water by squeezing the cabbage into a ball in your hands.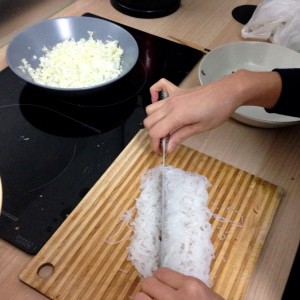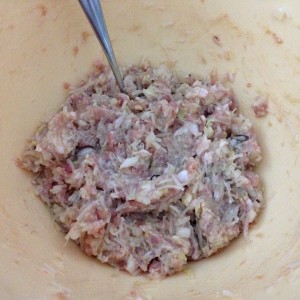 In a large bowl, mix pork, cabbage, shiitake mushrooms, ginger, starch, cilantro, salt, soy sauce, and a trickle of sesame oil. Mix for a few minutes with your hands.
There are a few ways to assemble the gyoza. I find it's best to look at photos or a video. Here is a wonderful step-by-step guide.
Cover the bottom of a pan with grapeseed oil and arrange the gyoza (see top photo). Add a little water and cover. Cook for 10 to 15 minutes. Uncover, add an even trickle of sesame oil, and continue to cook for another few minutes. The bottom will be crispy and brown. You can serve the gyoza with a dipping sauce made of vinegar and soy sauce, to taste.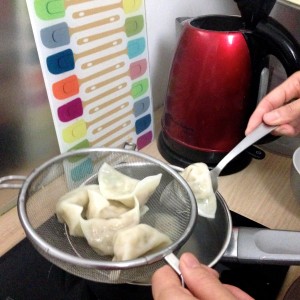 For soup, you can boil the gyoza for ten minutes. Place the gyoza in a pot of boiling water, and when they rise to the surface add a little cold water. I eat them right out of the pot, with a spoon.
If you have extra gyoza you can always freeze them to cook at a later time.